---
Personalised Newspaper
₹
449
Rs.550
You save: Rs.101

42 Customer Reviews
PAY WITH: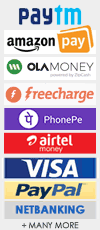 By

Sai Krishnan
I received it and I am very happy by your service. The quality is really good. I would really like to recommend "exctinglives" to all of my friends.

By

Pushpaja Panneerselvam

By

Sivasangari Vishwanathan

By

Sadaf Patel
Very innovative gift. it would have been nice if we could eidt the rest of the paper too. Can I get a soft copy of my newspaper?

By

Ankit Dixit

By

Poonam Yadav
Please deliver items to USA also

By

sumathy ramkumar
You guys are awesome !! Delivered well before the time , though I ordered only at the last minute. Excellent quality, timely delivery & tracking facilities. Thank you so much . My daughter was extremely happy on her Birthday . Your team made our day really special !!!!

By

Sneh Vaswani
It was the best gift ever

By

Vignesh Seenivasagan
Awesome !! My wife loved it.. Thank you for great customer support and quick dispatch you guys are rocking expecting more personalized gifts as i have order one more wall clock today.

By

NANDITA NIDHI

, New Delhi
Amazing gift. My friend loved it. Only complaint is, it was delivered late.

By

Priti Joseph
Liked the concept.. And it came out well... Waiting to see the smile on his face.. Happy customer.

By

divya Gnanasekaran

By

Jitendra Bhuyan
Not delivered in exact date...It delivered before 2 days.......I'm extremely unhappy.

By

Bijal Panchal
I really like the quality of the paper and it was delivered before time so I am very happy... #HappyCustomer

By

Ashish Shah
I liked this gift. Thank and hope u add such exciting personalised gifts.

By

Divya Bomma

By

Reena Jennyfer

By

Deepthi Pennada
Liked the product very much!!!

By

Aditi Sigroha
Super big help from balvinder ! Kuddos to him!

By

Nikunj Bambhroliya
you guys are just awesome. i love u. when i make payment they said it will take 6 days. and it comes after a day. awwesome and also packing and all the things are also as seen in picture. fully satisfied. thank you so much for this. :)

By

Pavithra Lakshmipathy

By

vijay kumawat

, Kota
It was amazing ....

By

Bhavika Bhagde Patel
Hiiii I received my order of newspaper print and want to convey that i loved my thing... its super amazing..Thank you for such a nice thing the quality is also super proper...thank you so much...

By

Seethal Patel

By

Mamta Saxena
Excellent product. a good 'surprise' gift to give someone.

By

rakesh kesavan

, Bangalore

By

Toshit Jain

By

Sitalaxmi Iyer
Hey, thanks a lot for the amazing gift. It really made my friend happy. Amazing service & great job over the design.. thank you once again😊

By

Arpitha Rajesh
It was an excellent gift. It was well packed and superb quality. I suggest it as a very unique personalised gift and I recommend it whoever sees this post

By

pinky khushlani

, mumbai

By

Disha Purohit

By

Latha Sharma

, Pune

By

Anu Sathyanarayanan
Hi i have received the gift which i ordered and it turned out really good. Thanks to you and your team for your wonderful job. -Anu

By

azeem khan

, New Delhi
Loved It !! Awesome product

By

Sana Kamal
It turns out fabulous gift as my husband was very happy after finding this newspaper into his daily newspaper.

By

Uma Dwivedi
What an amazing gift. I am sold off to it

By

suruchi thapar
Thank u guyz for the amazing gift!! My husband loved it totally. Must appreciate the quality of the product. It is a very unique idea for a gift and makes a person feel quite special.... thank u team exciting lives. I must also say that u have a very professional team at work keep up the spirit!!

By

anita mishra

, banglore
This is my second expierence with el team and it was just fab...their quality of product n Customer service is just great..love you guys

By

Abarna Charles
Superb, and the paper quality was awesome. Really Loved the product.

By

Nirathya Anisha

, Hyderabad

By

abha garg
Awesomeeeee

By

tripty khanna
It was good but i thought it was 2 paged but its one page.But overall good