---
Personalised Mug
₹
155
Rs.299
You save: Rs.144

Read Reviews
PAY WITH: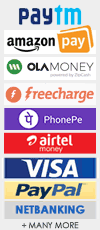 By

Rajni Arora
Good packing, timely delivery, Awesome product,satisfied­čśä

By

Virendra Vishwakarma

, KALYAN (E)

By

Aditi Akash
Amazing experience ÔŁĄ´ŞĆ picture quality is very good..mug quality is good...and dilivery is very fast

By

Himanshu Gupta

By

Rajdip Biswas

By

himashree brigadier
no complaints. will order more. well done. a little expensive may be

By

S. Mustofa
So nice....

By

Raj Parmar
Lovly personalosed mug

By

Dhivakar Vijay
Perfect, Superb , the cup quality also too good. Keep it up.

By

Monica Onyx

, Bhandup (W), Mumbai
Awesome

By

Ayushi Chaudhary
I really want to appreciate Balvinder Singh who helped me through out till the product got delivered yesterday before the time and it was exactly the same which I expected and briefed to Balvinder. Thank u for excellent services. Keep doing well. Regards, Ayushi

By

Monika Goenka

, Kolkata
Wonderful ..Thanks to your team member Devrat for coordinating and executing the order so well..The mugs were delivered before time, very good quality and no damage in courier..Superb !!

By

Sushil Patle
So nice 1

By

Shaikh Shawana
Received earlier than expected. Safely packed­čĹŹ Lovely packaging. And got the print same as the image that i sentÔś║´ŞĆ­čÖé... Great job!!!

By

Rupal Biswas

By

Shruti Lodha

, Mumbai
Your team member devvrat Singh has been great help with the order. Special thanks to him for helping with the order.

By

Aamir ashraf
It was way better than i expected. Thank you excitinglives.

By

BISWAJIT ACHARYA

By

Isha Sharma
So so happy with your product and service again. The quality of the mug is very nice. Thank you so much

By

Firooza Tachakra

, Mumbai

By

Firooza Tachakra

, Mumbai

By

Sahil khan
Once again happy with my order

By

Mirza Beg
Nice product

By

Punith M H

, Bangalore

By

Sahil khan
Just loved it... Saying from my heart you delivered as much earlier

By

MOHAMMAD JAHANGIR
Thanq very much

By

Roydon Cerejo

, Mumbai
Print quality was very good. However, the final print wasn't proppotioned to how I had resized it while placing the order. Had zoomed in to fill the frame but the print was taking with the original dimensions so there are lots of white spaces on either side of the handle.

By

Abha kukreja

, gurgaon

By

Rahul Kumar

By

Nagendra Chouhan

, BHIWANDI
Lovely product thank to exciting lives team.

By

purnima jain
I have ordered 3 mugs but 1 mug pic quality was blur.....other 2 mugs was perfect......this was not expected from excitinglives....refund my money for 1 mug

By

Jigar Navlakhi
Awesome...Really fast n furious delivery...In 1 day i got delivery..thanks alot....

By

tarun kumar
thank you.....its a tedious task of delivering a product all the way from Delhi to Warangal....You guys did that in record time.....thanks a lot......

By

monica verma
Awesome product.. Loved it

By

Sharvani Hiremath
Mug quality is very good and clearity of the image is good

By

Ananya Sarkar

, kolkata
The product was delivered in 4 days time although it was mentioned that it might take 9 days. The product was beautiful. Thank you so much EL team!!

By

Busi venu Babu

By

Sudhakar Masabathula

, Visakhapatnam
Excellent- Never seen any other site as best as Exciting lives