---
Message In A Bottle
₹
999
Rs.1490
You save: Rs.491

Read Reviews
PAY WITH: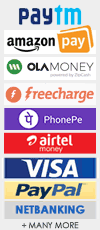 By

Divya Bomma

By

Kamal Kannan
It's good to see it delivered On time and cool packing!. Only disappointment thing,it didn't look as cool as it was shown in website(Especially to this cost, it should've been better). Still, worth a go!

By

Chandan Durgia
Order was requested for 14 Feb and it reached on 11 Feb .. screwing up the whole surprise.. I understand courier could reach a day before but 3 days is way too much.. Disappointed from delivery time perspective..

By

Sankalp Agarwal

By

vinod kumar
THANKS A LOT FOR DELIVERING IT ON THE RIGHT TIME GIFT WAS AWESOME,JUST A SUGGESTION PLEASE AVOID RUBBER BAND ON THE PAPER BECAUSE IT MAKES THE PAPER SO VULNERABLE,THANKS A LOT

By

Alkesh Thakor

By

Vikranth Chintaparthi

By

Aditya Maheshwari
Good quality product, but I expected a little better for the price being charged. Also, the message allowed is a bit too short.

By

Merlin Thomas

By

sarat chaitanya

By

MADHUMITA SENGUPTA
Thank You. We saw the image and packing... Matched the expection set by the apparent snap on site.. Awesome selection and fine presentation. Feel Happy for the purchase, and indebted for your promptness.

By

Zaee Thikpurlikar

, Nagpur

By

ruchi gupta

, gurgaon

By

Mohd Shafiuddin Ahmed

, Hyderabad

By

Supriya Naik

, Bangalore
received the gift on the desired date which was most important to me with excellent packing. Thanks for being a part of our celebration.

By

Shiraz Khan

, Gurgaon