---
Personalised Samsung Galaxy Cover
₹
199
Rs.599
You save: Rs.400

Read Reviews
PAY WITH: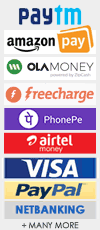 By

Vasudha Ramachandran

, Chennai

By

SAAMIYAH FARHAN

By

SAAMIYAH FARHAN

By

Hargun Makkar

By

Pavan Bharadwaj

, Bangalore

By

Bhagya Lakshmi Dwarampudi

, visakhapatnam-16
good

By

jitender singal

, Gurgaon

By

Deepika Bhat
Awsm service really appreciated for quick work.

By

Varsha Jaikumar
The picture on the cover was very nicely printed. Although I was expecting a soft silicon cover, the one that came was a hard plastic cover that was tough to put on the phone and take off.

By

pramod Kumar

By

Cynthia Jennifer
Great job team. Really a good product. Continue with your innovations :) We are there to support :)

By

Arpit Jain

By

Zainab Saria
Excellent Photo quality. My husband loved it totally and he recieved a lot of compliments regarding the same...

By

Chaitali Basak

By

Rakesh Singh

By

Anshul Modi
Image quality is awesome, back cover quality is impressive, fitting is perfect. You get a preview of how the image would look on the back cover. Good Communication from Exciting Lives +++++

By

Robin Patel

, Surat
product is very nice and its get excited to the loved one......Thanks for giving such a wonderful product..

By

sanya malhotra

, new delhi

By

Dhiraj Singh
Very happy with the design. keep up the good work....

By

Malar kodi Kandanathan

By

Manmeet Singh

, Mumbai

By

Madhureema Sen

By

srishti kukreja

, Bangalore

By

ankit chawla

, new delhi

By

Renu Kewalramani

, ulhasnagar
Loved the cover... I ordered 2 of them... it is sooooo awesome... good quality. .. fits well... looks lovely... thank you...

By

Upkar Singh

, Patti (Amritsar)

By

Renuka Devi

, Coimbatore
Please provide options for other models also. The quality and delivery was good. Thank you!

By

LakshmiPrabha Balaji

, Chennai
The gift was toooo gooooood and delivered well ahead of time. But if it would have been gift wrapped, it would have been much better. Also, the message was printed in very small font which made it difficult to read...