---
Personalised iPhone Cover
₹
299
Rs.599
You save: Rs.300

Read Reviews
PAY WITH: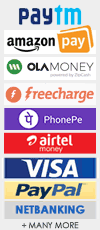 By

Shruti Pathare
Super satisfied with the product! Quality of the cover and print is really good. Keep up the good work guys!

By

nidhi mittal

By

Lakshmi Prasanthi

, Hyderabad
nothing

By

Hargun Makkar
Hello team exciting lives You guys never fail to impress. Thank you so much for delivering my order well well before I expected it to arrive. All 3 covers were a present and the reactions of the recipients were priceless. Keep up the good work!

By

Pappu Ahmed

, lucknow

By

Monika Sharma
Cover is slightly loose on iphone 6 plus please improve

By

Aarthy Karuppasamy

, Bangalore
Ordered a personalised iphone cover for my anniversary and cud'nt be more satisfied. Timely delivery and quality product. Thnx guys! :)

By

Jaimin Patel
Very good quality of printed photo... nice work i appreciate for that, but cover quality is average...

By

Anisha Mathews

By

Aman Priyanshu

By

Manoj Arora
Its not the first time when I have ordered through excitinglives and each time I had ordered a product I feel its excellent, be it the personalized newspaper, mug, pendants, keychains, phone cover. We have just loved the products we have received. Till date I have ordered 12 personalized keychains as anyone at my workplace who sees my keychain, they ask me to order it for them too. Thanks for the great job you guys are doing!

By

Srishti Vijayvargia

By

Hargun Makkar
Thank you so much Exciting Lives Team. You guys made my day. I received my order in less than 48 hours, so kudos to your service!! :) Secondly, the quality of the iPhone cover is amazing and totally worth it. =D Again, a big thank you to you guys. Keep up the good work!

By

Mehul Joshi
Nice iphone cover and printing of image is very good keep it up

By

Rthika Menon

By

vibudh jain

By

taher mansoor

, Surat

By

Jagjit Kaur
Reached before date of delivery, extremely grateful for the help at selecting and shortlisting the photo for the iPhone cover! I hope you get more staff like Balwinder,thank U

By

Sawan Challani
the picture was too shadowed and the print quality was awesome

By

Sushant Bothe
I would recommend this site to anyone who wants a quality product at reasonable prices! Delivery was superfast too! Will recommend this site to everyone I know!

By

Swetha Ganaji
I would like to say that this is really the best among any online sites. I have ordered personalised iPhone cover and got the order delivered to me on the desired day i have selected. I would give my rating as excellent for the on time shipping and good for the quality of the product.Exciting lives is really awesome and your site will be my first preference going forward.Once again Thank you so much for the on time delivery :)

By

Anshu Sharma
It was a fantastic experience and an awesome gift ......for your loved ones

By

Mohit Kaul
Just one word for you guys "WOW". Your delivery efficiency is just superb its less than 24 hours i have placed the order and i have received it. The quality of the product is superb and the quality of the picture printed is also very fine !! Exciting Lives you are really exciting.. You Rock (Y)

By

Mehul Bhakta

By

Nisarg Shah

, Baroda
I am really happy with the product. I sent personalized iPhone cover and my Wife loved it!! Thank you very much for making it a wonderful experience

By

Divya Shetty
Appreciate if the quality of the cover is a strong enough to be more presentable. However amazing and rocking service..

By

Manikandan Palanivel

By

Mehak baveja

By

Trina Mitra Ghosh
Very happy with the product. Thanks!

By

piyu priyatham

, Secundrabad
delivered 3 dayz ahead!!!aweeesummmmm n unique gft 4 ny1...picture ws a bit dark toh..juz a bit!!!! juz love it!!great job!!

By

Tuhina Chakraborty
Dtdc courier service and customer service vwry very bad. I had to personally call them 10 times to deliver the parcel.

By

Tanvi Malik
I am super impressed with the Delivery time and the personalized products. Great job!!

By

ANEESHAA DEV

, Noida
I am amazed to receive the product within 2 days! Extremely happy with the product! This is my second case & I know I wont be going anywhere else to get more!

By

arun rajeswaran
good n fast delivered :)

By

VIKAS RAWAT

By

laksh baheti
Good Received as expected

By

varsha gupta

, chandigarh

By

Sowmya Manjunath
Amazing first experience. Great customer service, latest updates on the order status page, quick delivery before the specified time, good quality of the product...